This year's MCT Exchange broke the mold from previous conferences by featuring a highly anticipated keynote presentation, a new product release, and a new venue at the Hard Rock Hotel in downtown San Diego!
Panels and presentations focused on current market conditions and how mortgage originators are making adjustments to handle the influx of volume. Continue reading for the recap video, livestream recording, event overview, and slide decks used during the conference.
In its thirteenth iteration since 2011, the 2019 MCT Exchange conference earned the highest attendance on record with over three hundred individual attendees. This collaborative event allows MCT clients, vendor partners, correspondent investors, broker/dealers and other capital markets businesses to share ideas for growth in the upcoming year.
We would also like to thank everyone who was able to attend this year!
MCT Exchange September 2019 Recap: Photos, Videos, Slides
This recap includes a conference video recap as well as presentation and other recordings gathered during the conference. Scroll through the post or use the menu below to jump to each section.
Watch MCT Exchange 2019 Recap Video
Click to watch the recap video and view some of the amazing experiences during this year's conference.
Thursday Night Welcome Reception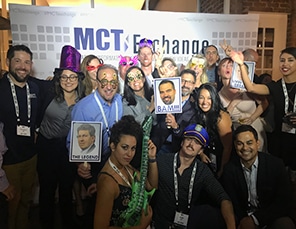 The Thursday night reception was held earlier in the year, adding hours of summer sunshine. Guests were greeted with a welcome reception as they enjoyed a live band, appetizers, and a signature cocktail designed by our platinum sponsors. Guests were not only seen referring others, but also delighted to get away from the desk and have in person conversations.
As the night went on, the ice sculptures glistened in the fading light as the cameras began to light up around the photo backdrop. Ultimately, it was a great night for vendor partners and clients to interact before Friday's packed schedule.
Friday Morning – Keynote Presentations & Panel Discussions
Friday morning featured industry veterans and expertise designed to provide insight to the mortgage originators in the audience. Marina Walsh, VP of Industry Analysis at the Mortgage Bankers Association, led the charge with a keynote presentation on the current state of the market.
MCT's Phil Rasori then announced the exciting new release of the MCTlive! mobile app before Chris Anderson did a client panel focusing on the benefits of technology for mortgage originators. Phil Rasori finished the morning with an investor panel discussion that was broadcast live to a national internet audience.
Continue reading for details, photos, and video recordings of Friday morning's presentations.
Keynote Presentation by Marina Walsh of MBA: Performance Benchmarking & Market Forecast Based on MCT & MBA Data
Friday's keynote presentation featured Marina Walsh, VP of Industry Analysis at the Mortgage Bankers Association. The presentation included information on purchase activity, forecasting, market changes, and how these will affect mortgage originators. MCT client data was featured alongside MBA data to provide unique insights into how MCT clients align and differ from the market at-large. Ms. Walsh also discussed how the current yield curve may affect the buying market, reviewing many concerns around future market shifts.
View her presentation to learn more about the current market status.

New Technology Debut by Phil Rasori: Introducing the MCTlive! Mobile App
Phil Rasori, COO at MCT, started his presentation with the introduction of the MCTlive! mobile app through a video debut. The mobile app enables secondary marketing managers to review reporting, manage loan pipelines, and conduct whole loan trading from the convenience of their phones. The new mobile app received a warm welcome at MCT Exchange and a buzz of excitement as attendees downloaded it from the App Store. 
Livestream with Phil Rasori: What's Next for Secondary Marketing Executions & Technology
Friday's lunch featured a panel discussion that was also broadcast live to a national internet audience. The panel was moderated by Phil Rasori and featured representatives from leading investors including Penny Mac, Freddie Mac, Wells Fargo, and Fannie Mae.
View the live stream recording at the right to view their discussion on technology, market conditions, and their predictions for the future of the secondary market for lenders.
Client Panel Moderated by Chris Anderson of MCT: Success Through Technology & Innovation
Chris Anderson's panel brought several MCT clients together to focus on the technology used to improve efficiencies, profitability, and operations within their business. This panel gave audience members the unique opportunity to learn about what other mortgage originators are doing to improve profitability.
View the presentation slide deck to learn how technology and automation is helping mortgage originators. 
Friday Afternoon – Breakout Session Workshops
The afternoon followed with breakout workshops that included more than 15 topics and featured 8 different vendor partners. The Friday afternoon breakout sessions were designed to encourage more personal conversations in smaller meeting spaces.
MCT Rapid Commit & New Agency Technologies – Paul Yarbrough, MCT, Fannie Mae, Freddie Mac
MCTlive! Training – Level II
Drive More Leads & Increase Conversions with Borrower & Realtor Facing Technology – Pat O'Brien, LenderLogix
Bid Tape AOT Executions: Process, Programs, & Profitability – Phil Rasori, MCT
Getting Started with Securitization – Ben Itkin, MCT
Outsourcing Operations & Accounting – Sam Mehta, Verity Global Solutions
Saving the Deal with Alternative Mortgage Products – Panel Moderated by Eloise Schmitz, LoanNEX featuring LandHome
Controlling Your Healthcare Costs with Partial Self-Insuring – Brian Husowitz, Andus Health Benefits
Friday Night Reception & Saturday Activities
The Friday night reception was held at the Hard Rock Hotel 207 bar for the second consecutive year. At the reception, guests were treated to sliders, sirloin, macaroni and cheese, as well as a bar featuring signature cocktails designed by our platinum sponsors.
Saturday's activities featured a golf outing, a sailing trip, and a poolside brunch at the Hard Rock Hotel. Each activity was well attended and have become staples at the MCT Exchange each year.
This year's sailing trip was able to sail directly by several US Navy ships before cruising past a group of sunbathing seals. Each year the Saturday activities continue to grow in popularity and are a great way to end the MCT Exchange.
View MCT Exchange Presentations and Photo Gallery Below
A few of our favorite image from this year!
2019 MCT Exchange Presentations
Download Presentation Materials
This page will be updated with presentations as they are received – please contact us with any questions.