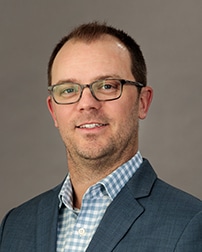 SAN DIEGO, Calif., Dec. 21, 2022 – Mortgage Capital Trading, Inc. (MCT®), a recognized industry leader in mortgage risk management providing pipeline hedging, best execution loan sales, and centralized lock desk services, announced that its Sr. Director, Head of Investor Services, Justin Grant, was recognized by National Mortgage Professional Magazine's (NMP) for his industry accomplishments, landing him on the 2022 'Top 40 Most Influential Mortgage Professionals Under 40' list.
As Sr. Director, Head of Investor Services at MCT, Justin was instrumental in seeing through the creation of BAM Marketplace, a subset of MCT's industry-leading BAM (Bid Auction Manager) loan sale platform. He headed the project from ideation to product launch. The creation of BAM Marketplace helps provide liquidity to lenders by allowing sellers to transact with buyers that they aren't approved with.
"I feel privileged that NMP has acknowledged my efforts as a mortgage professional," remarked Grant. "This award is a huge honor for me, as well as a reflection of all the dedicated and talented staff at MCT that have contributed tremendously alongside myself. Without their efforts, we wouldn't be able to be at the forefront of technology and driving innovation in the mortgage industry."
The list is comprised of mortgage professionals that are under the age of 40, as voted by their peers, who are accomplished individuals that carry the torch of professionalism, perseverance, leadership, excellence, and more — in their respective fields within the fast-moving mortgage industry. As with each year, NMP received many nominations, naming 40 official winners and identifying another 40 to watch that are mortgage professionals shaping the industry.
Mr. Grant is a well-known expert about capital markets and the mortgage industry. He is often invited to speak on secondary marketing panels and attends national as well as state-based mortgage banking conferences. Mr. Grant graduated Cum Laude from the University of California, San Diego, and can often be found shooting well over par on the city's many golf courses.
Since 2006, Justin has weathered the ups and downs of the mortgage industry, alongside many of MCT's clients. He has worked tirelessly with his MCT peers to drive relentless innovation in the secondary market based off the needs and feedback of clients. It is this mission to provide lenders with best-in-class tools in the secondary market that will continue to drive innovation at MCT. Not only has Justin been instrumental in leveraging his 15-year+ industry contacts to source new buyers to bring to the table, but given how unique many of them have structured their correspondent offerings in the program it is a true feat to have incorporated such a diverse set of buyers in such a short period of time.
About MCT:
Founded in 2001, Mortgage Capital Trading, Inc. (MCT) has grown from a boutique mortgage pipeline hedging firm into the industry's leading provider of fully integrated capital markets services and technology. MCT offers an array of best-in-class services and software covering mortgage pipeline hedging, best execution loan sales, outsourced lock desk solutions, MSR portfolio valuations, business intelligence analytics, mark to market services, and an award-winning comprehensive capital markets software platform called MCTlive! MCT supports independent mortgage bankers, depositories, credit unions, warehouse lenders, and correspondent investors of all sizes. Headquartered in San Diego, California, MCT also has offices in Philadelphia, Healdsburg, and San Antonio. MCT is well known for its team of capital markets experts and senior traders who continue to provide the boutique-style hands-on engagement clients love. For more information, visit https://mct-trading.com/ or call (619) 543-5111.
Media Contact:
Ian Miller
Chief Marketing Officer
Mortgage Capital Trading
619-618-7855
pr@mctrade.net